As the User Experience Research Intern at Target HQ, I had the opportunity to work on several projects involving two of Target's signature categories: toys and baby. Under the direction of the UX Research Manager, I wrote and conducted usability studies and teamed up with two other design interns to create concepts fueled by my research for redesigns in the toys and baby spaces, both online and in the store.
Baby Steps: Choosing Complex Products
Over the course of the summer, I worked with the UX Design interns on a project that focused on the complex purchases that new parents face during an infant's first year (think cribs, strollers, highchairs, etc.). I wore a couple of hats during the project, conducting all the research and user testing, developing concepts, and helping the design interns with their concepts and presentations.
I worked with the UX researcher manager to write and deploy a "mission" on the mobile user-testing application,
dscout
. I also launched tests on
usertesting.com
for competitive analysis and to gain further insight on what browsing and shopping look like online.

If you ever took Philosophy 101, you're likely familiar with the classic debate between Plato and Aristotle. If you didn't, I'll lay it out for you real quick. I assure you it's relevant to my exegesis here. 
Plato was the guy who gave us the metaphor of the cave, where most people spend their lives stuck watching shadows dance across the walls. He believed that everything we see and touch in our world (the cave) is merely a copy and beyond us is a world of ideas or forms where perfect versions of everything that exists on Earth await the enlightened few who seek them. 
Aristotle, conversely, was an advocate for living in and valuing reality. He thought we were well equipped (with our five senses) to make sense of and appreciate the world as it is and that seeking meaning shouldn't involve abstraction or enlightenment, but rather something closer to scientific inquiry. 
Gross oversimplification aside, my UX research at Target was textbook Plato versus Aristotle.
At large, parents fell into two camps when it came to shopping for big-ticket items for their newborns. Some seemed to seek products based on internal conceptions with shapeless, nameless forms. In interviews, they would say things like: "I haven't found what I'm looking for yet." But when prompted they would be mostly unable to articulate what they were hoping to find. 
Other guests focused only on the products that were in front of them, both online and in the store. In interviews, they would say things like: "I've seen what [
the store]
has to offer and now I just have to choose between the products that I like best."
Thinking of guests as having internal landscapes ruled by philosophers lent a certain logic to their pain points and helped me to empathize with their plights. 
Metaphors aside, I found out that the most effective ways to present research were often the simplest and most visual. The baby project was best summarized, for example, by a video montage I created from dscout of guests saying "there are too many choices" over and over. 
Methods for presenting research
On the days leading up to the research presentation for "Baby Steps" I culled information and wrote a report . Here are a few excerpts from my research presentation and summary deck.  Find the full summary deck
here
.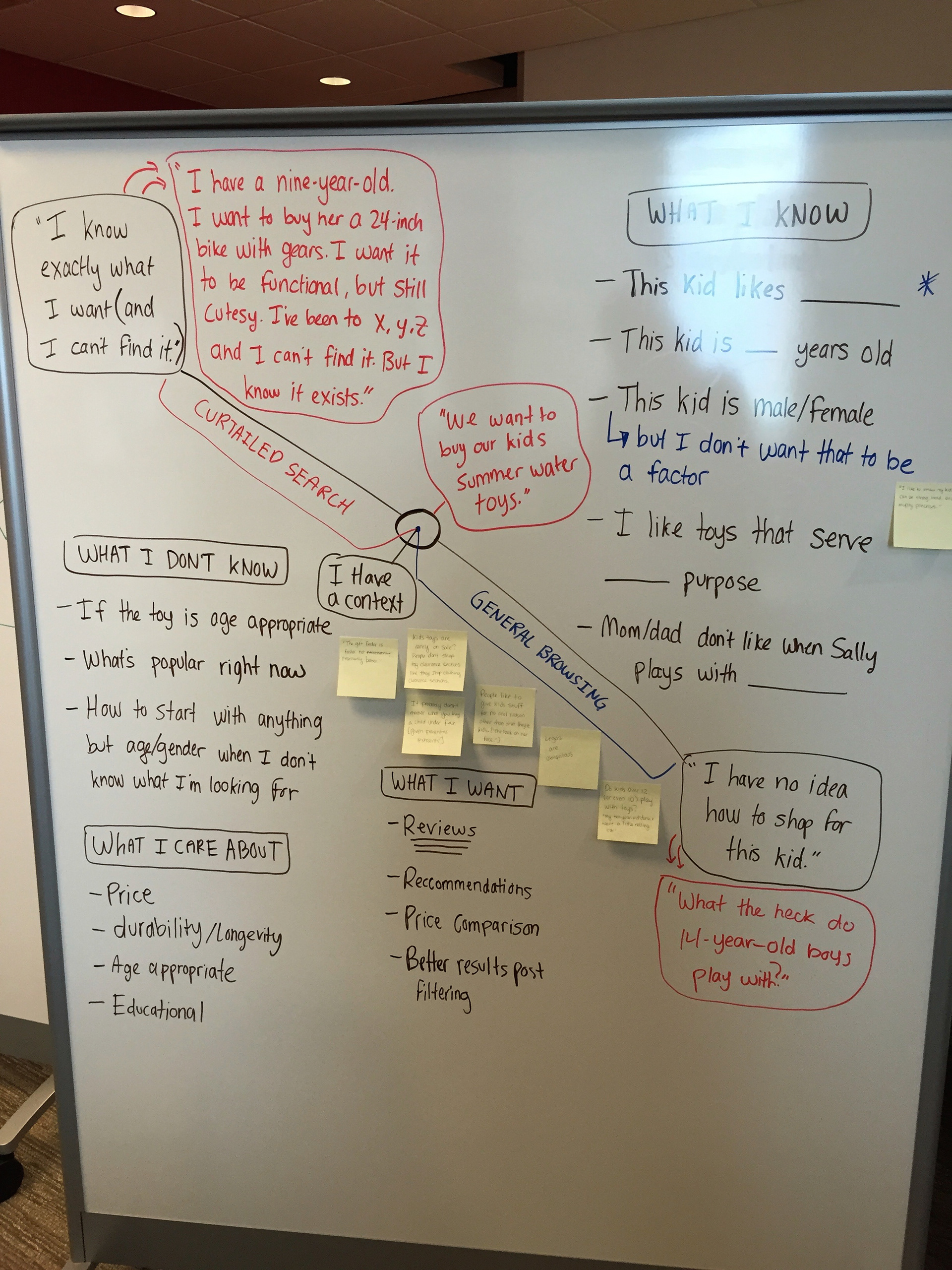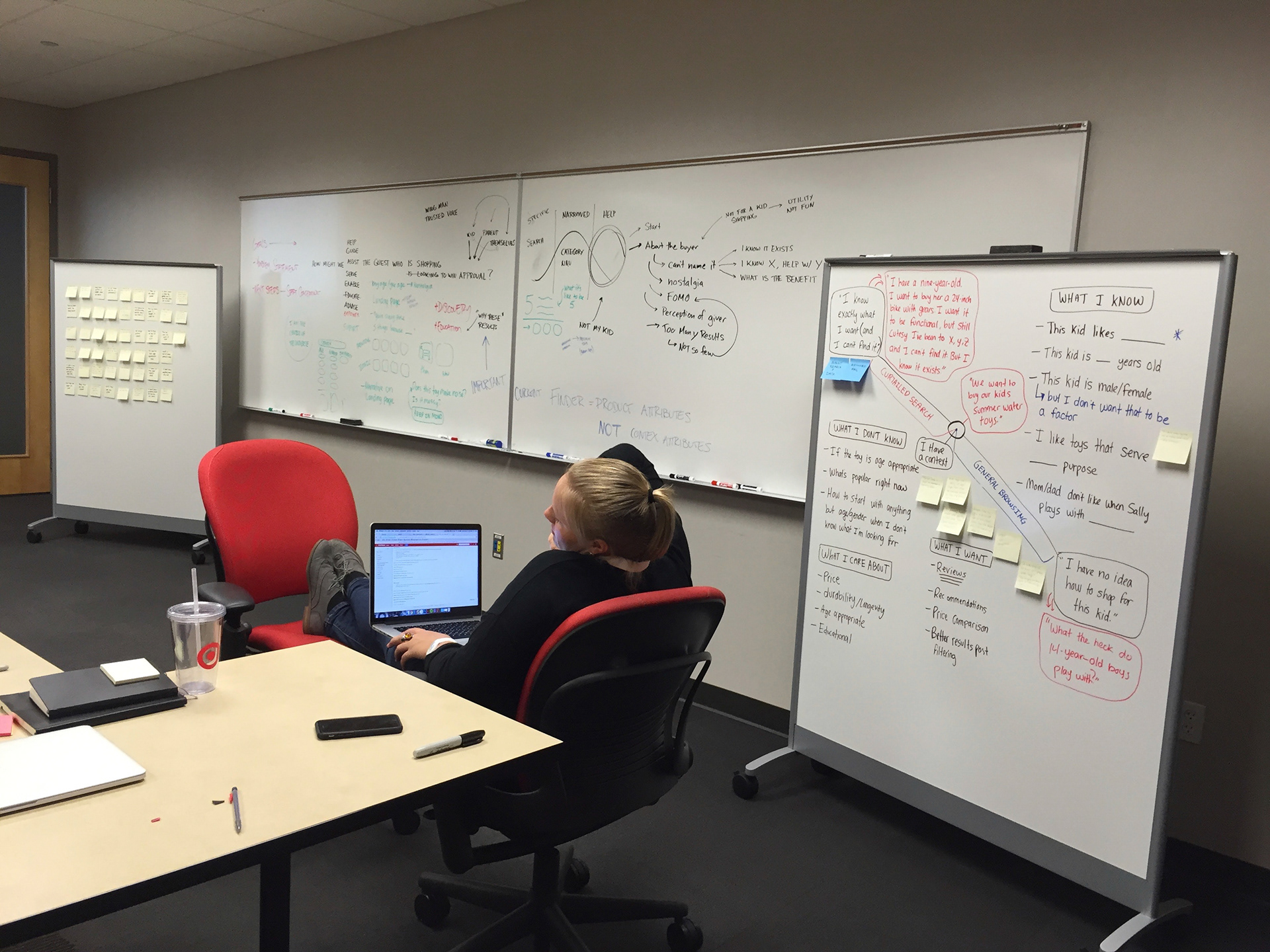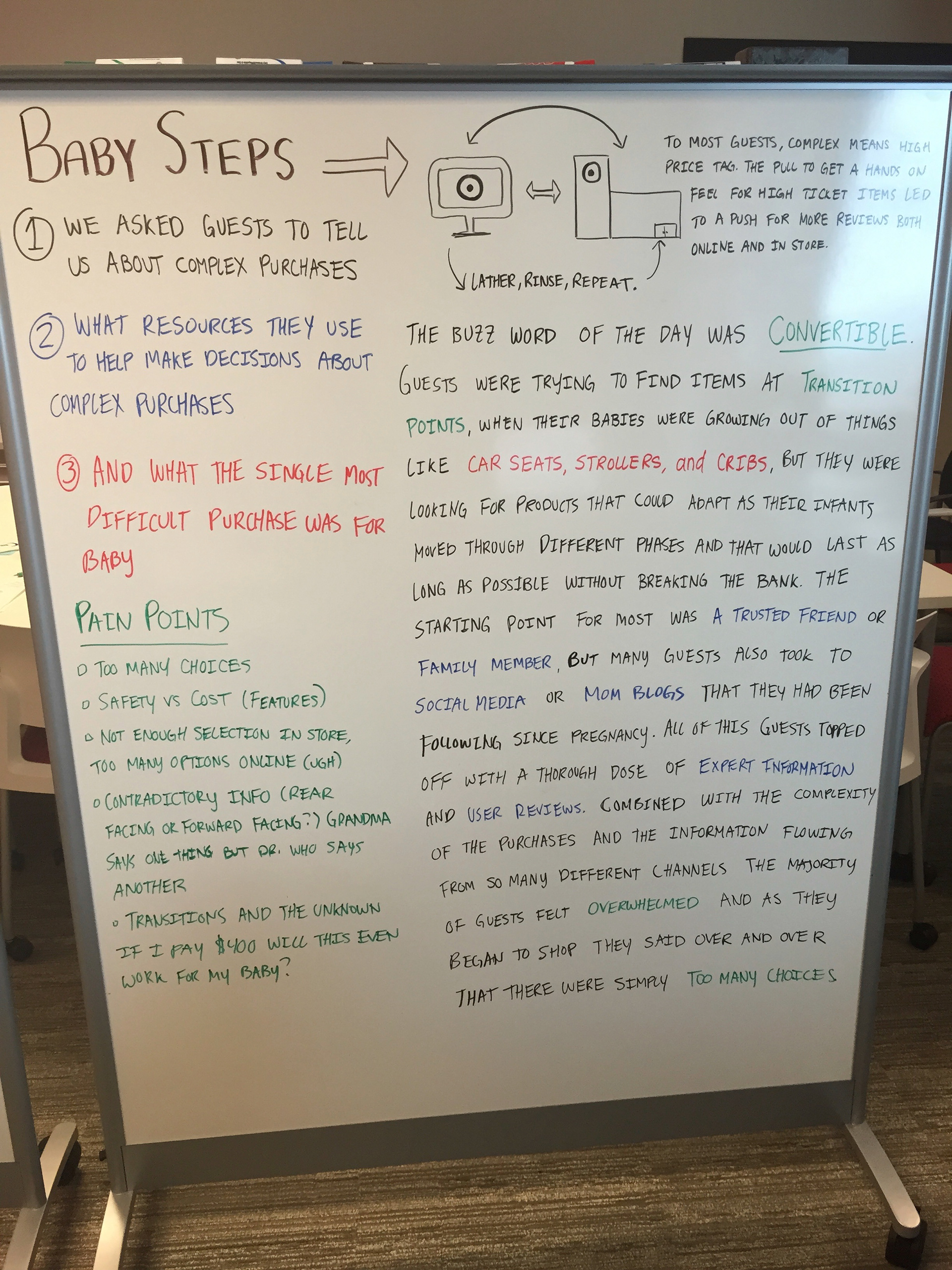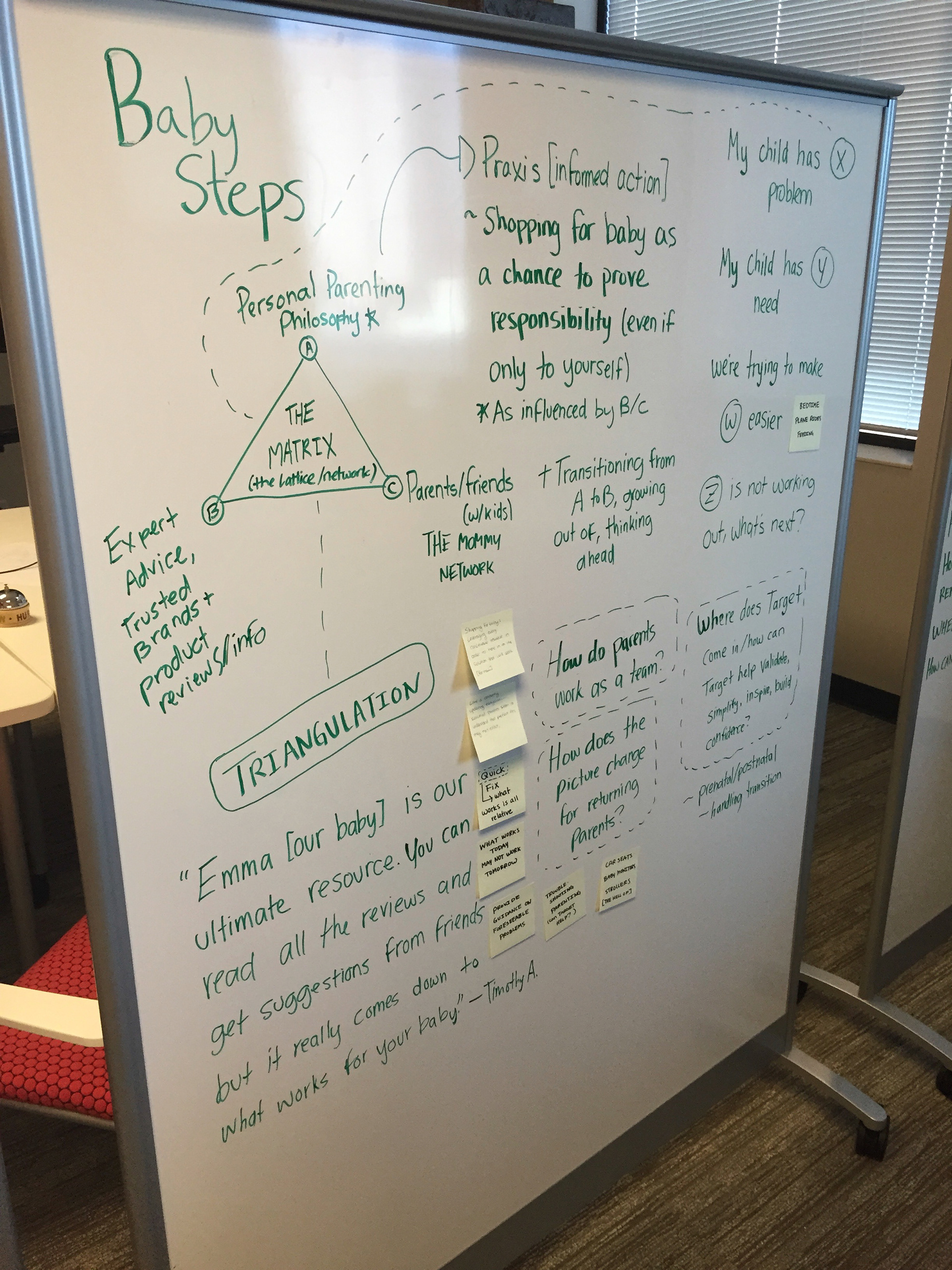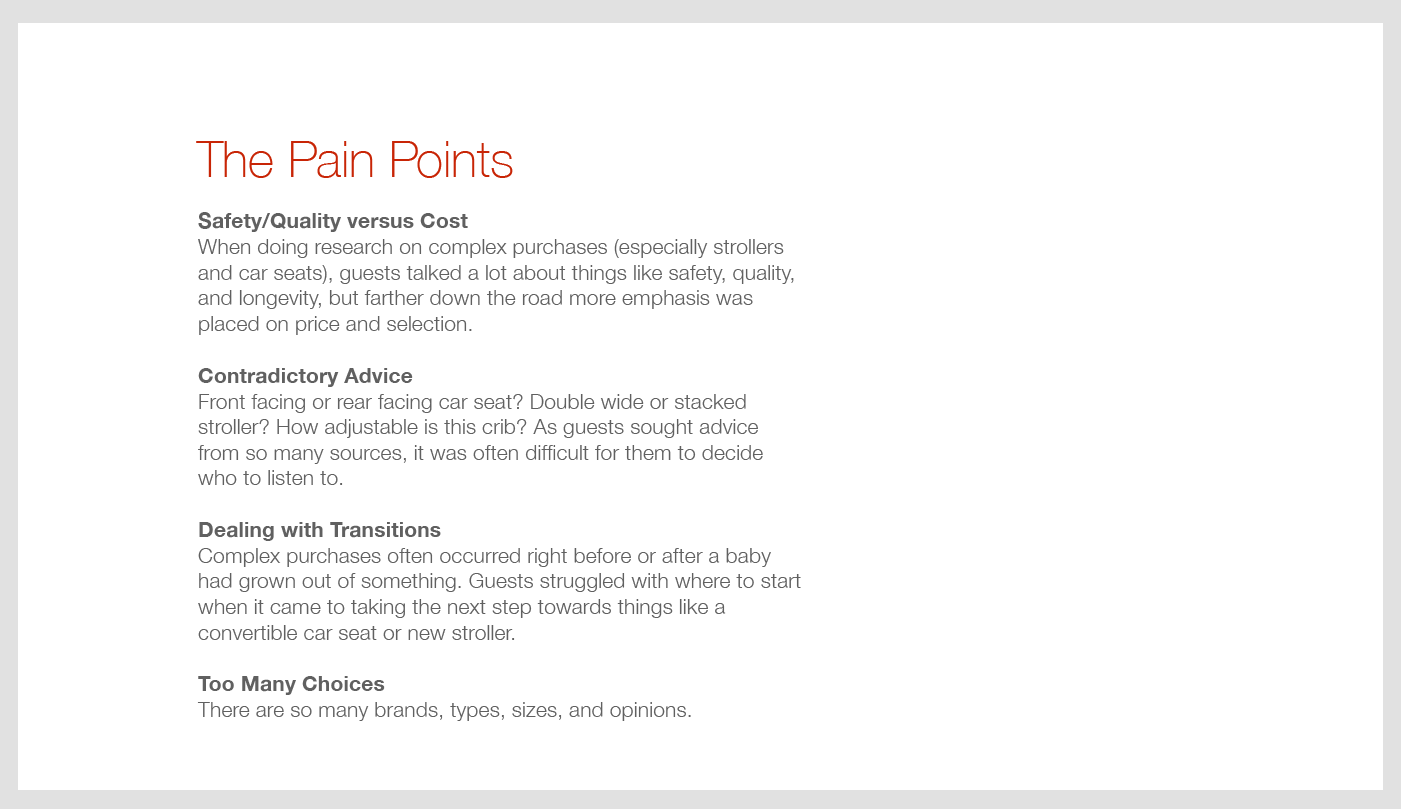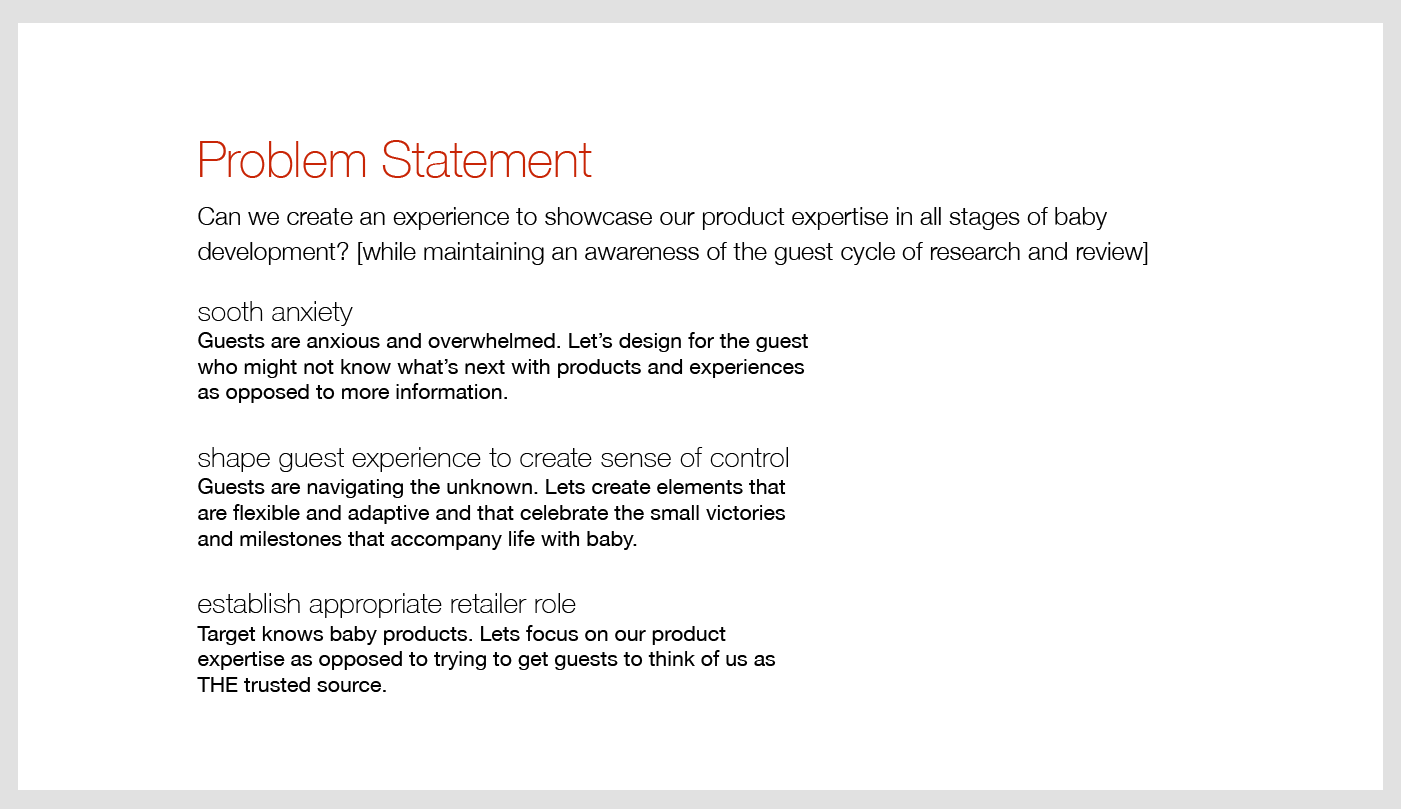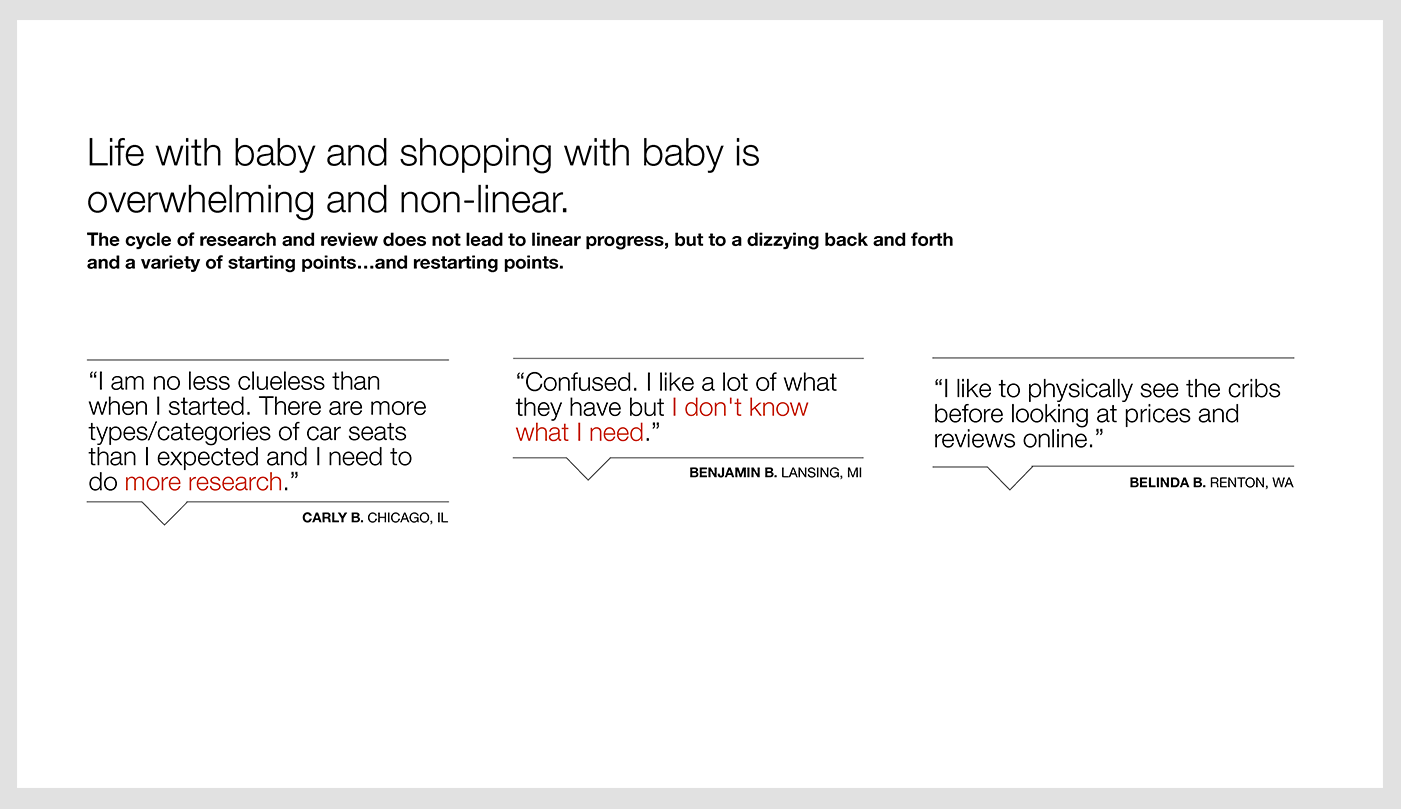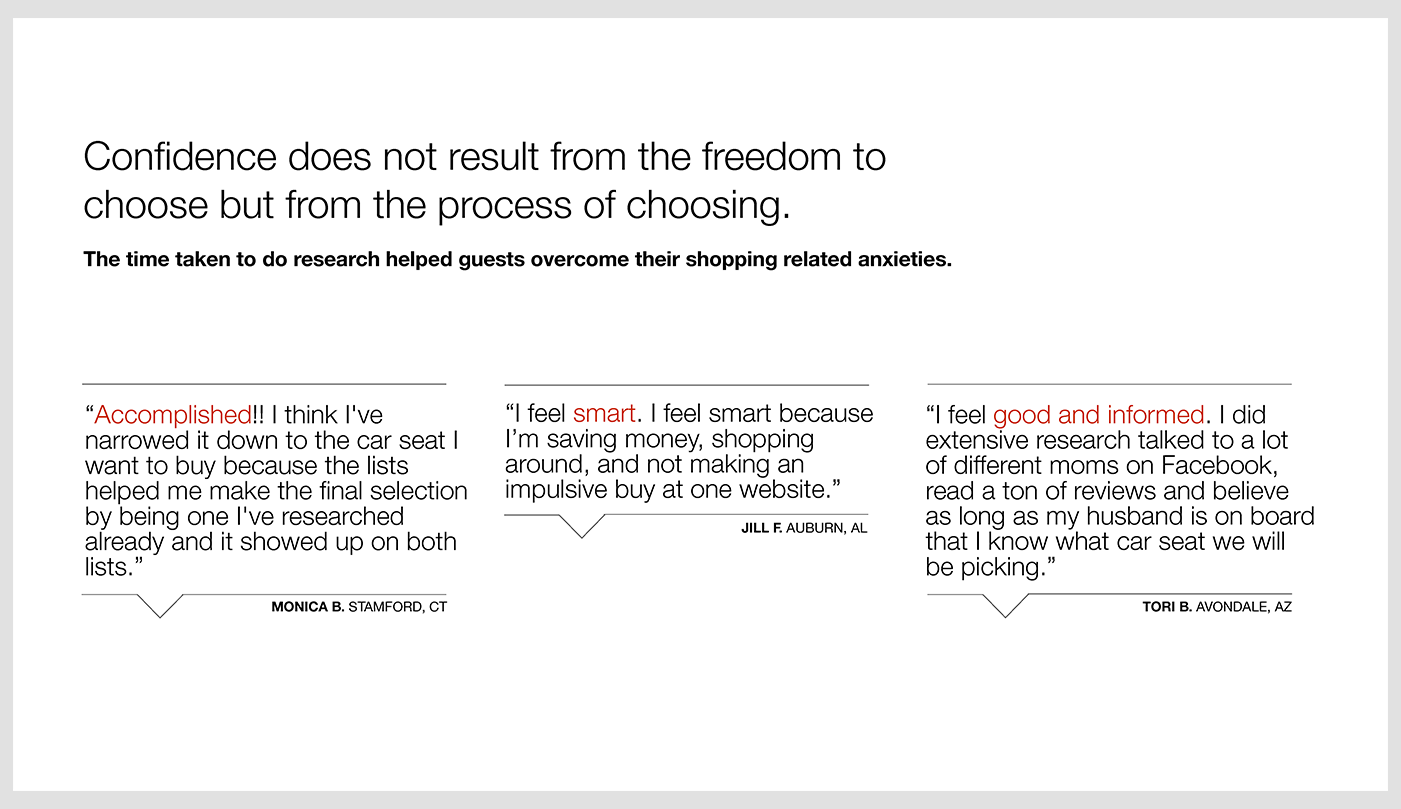 One of my biggest takeaways from the baby project, especially as it relates to design and research in online shopping:
The attempt to soothe guest anxieties by making product selection "easier" does not always have the intended effect. If making a complex purchase it too easy, some shoppers are apt to feel that they didn't work hard enough and to be less satisfied with and more unsure of their purchasing decisions.
Many guests were more confident in their purchases when they had taken the time to thoroughly research, read reviews, and seek advice from an array of sources. 
The move away from attempts to make shopping easy opens up other doors for design in the online shopping space, like helping guests to channel their anxieties and uncertainties in productive ways or increasing the challenge involved in finding the perfect product. Using guest insights at every phase of the complex purchasing process sheds light on the way our internal conceptions (our inner philosophers) can follow us into unexpected domains. 
In addition to research, I also spent time ideating and developing concepts with my mentor (Product Manager/UI) and the other UX design interns. I was responsible for making sure that the design ideas we moved forward with well aligned with guest pain points discovered during the research phase. This involved reviewing the concepts of the design interns, moderating ideation sessions, and continually summarizing research findings during team conversations. 
My main concept was called "RealViews" (see below) and involved rethinking how guests are confronted with information during the process of product selection. 
While the project was purely conceptual, I was recently told by my one of my mentors at Target that she still thinks about RealViews when designing for baby. I'll take that as a pretty decent review.